Infrabulimpex Ltd
EIK: 117538677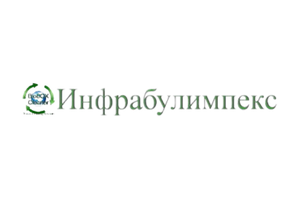 Infrabulimpex OOD, Ruse is a constantly growing organization, registered in 2001, which develops activities with proven success. The company has been an importer of fiberglass pipes since 2001. The fiberglass (GRP) pipes and fittings offered by them are intended for pressure and non-pressure pipelines for drinking water supply and sewerage, CHP, irrigation systems and industrial pipelines. They are manufactured according to EN1796 and EN14364.
The company has know-how and trained personnel for the production of shaped parts, manholes, water tanks, pontoons and other fiberglass products in its own workshop. Infrabulimpex Ltd. is a manufacturer of these goods in Bulgaria, but at the same time it also provides installation of GRP water pipes, sewers and pressure pipelines for MVPP, service for repair and maintenance of installed fiberglass pipelines.
Since 2010 in the newly built plant of Infrabulimpex Ltd., production of GMT - corrugated polyethylene (PE) double-walled muffled pipes with diameters DN/ID 200, 250, 300, 400, 500, 600 and 800 (in terms of internal diameter) was started according to EN 13476, type of the "B" pipe, intended for the construction of non-pressure sewage systems, which serve to collect and drain domestic, industrial and rainwater, as well as for the construction of drainage systems for surface and underground water.
The factory-installed extrusion production line is fully automated and with continuous computer control of production parameters, thus minimizing operator involvement.
Fiberglass and corrugated polyethylene pipes are accompanied by the necessary certificates and declarations of conformity.
The company is ISO9001 and ISO14001 certified.