Accessible Banking: Promoting Deaf Rights in the Digital Age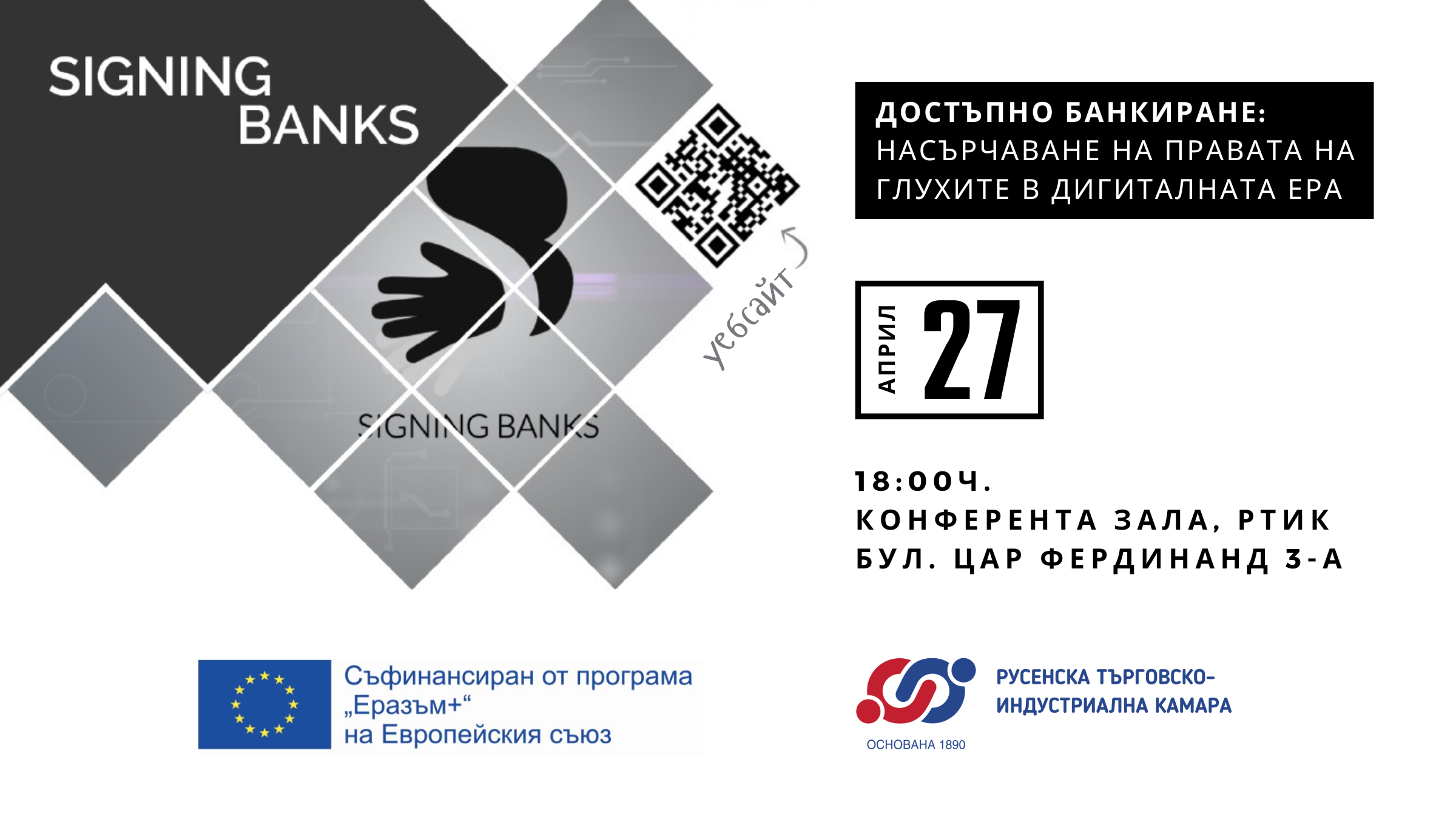 Deaf people are among those who have traditionally been excluded from the financial services sector due to a combination of reasons such as inaccessibility, prejudice, and limited professional capacity to offer financial services to people with disabilities, due to which they are seen as an unprofitable customer base.
Signing Banks is an innovative people-focused technology program that aims to promote the full inclusion of people with disabilities, and in particular deaf people, in the use of traditional and alternative banking services, online payment services, financial transactions and mobile banking .
In this regard, the Ruse Chamber of Commerce and Industry (RTIK) organized the seminar "Affordable Banking: Advancing Deaf Rights in the Digital Age', aiming to raise public awareness of issues related to making financial services (banking, insurance and pensions) more inclusive and accessible to the hearing/deaf community.
The event will bring together Signing banks project stakeholders, namely representatives of the deaf community from the region, representatives of business, pension and insurance, as well as non-governmental organizations from the field of social services.
The seminar will also include a practical part, during which the main products developed under the Signing banks project will be presented:
Main obstacles to ensuring accessibility in the field of financial services;
Good practices in accessibility in modern banking;
Guidance for financial institutions addressing how to make financial services more accessible to deaf customers;
A guide aimed at people with hearing loss/deaf people, providing a series of guidelines for using financial services such as applying for credit, using a credit card, using investment products, etc.
Guidelines can significantly reduce the disparity in empowering deaf people to more actively use modern financial literacy tools and aids.
The event is completely free, and for people with hearing loss/deaf people who join, translation into Bulgarian sign language will be provided in real time, through a special interpreter.
We invite everyone who has an interest in the topic and wants to support the deaf community in their fight for more accessible services to join the workshop and give their feedback.
For any questions regarding the event or the project, you can contact Mr. Airi Memishev on phone 0883588675 or email amemishev@rcci.bg.
Ruse Chamber of Commerce and Industry
+35982825875
info@rcci.bg