International exhibitions AGRA, WINERY and FOODTECH
The rich business program accompanies the 7th edition of the megaforum for modern agriculture, wine, food and equipment, which starts in a few days at the Plovdiv International Fair. The official opening of the AGRA, WINERY and FOODTECH international exhibitions will take place on March 9 at 11:30 a.m. in front of Hall 6.
It will be the largest economic event in the Balkans in the field of agriculture, wine and food industry, bringing together science and practice in a series of discussions, conferences and seminars. A series of forums dedicated to the latest trends in the sectors will be held over five days.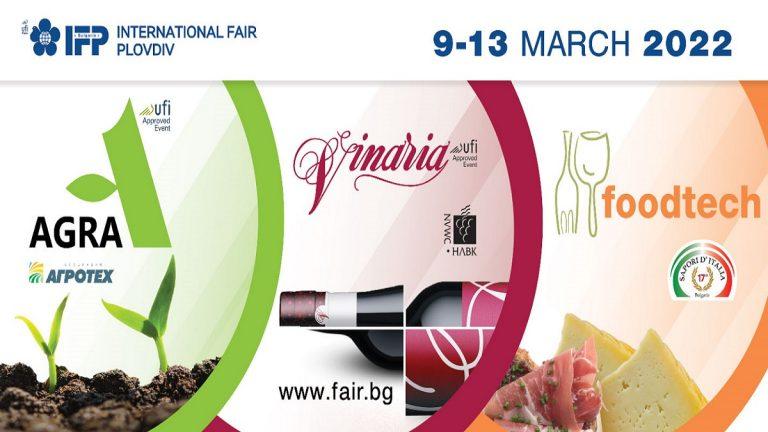 Among the highlights of the business program are organic agriculture, current problems of the food industry, bioeconomy and its application, the development of real and successful wine tourism, farming and craft production. The Bulgarian Development Bank will present the new possibilities for financing the hotel and restaurant industry. Various presentations are planned, dedicated to the possibilities of business development with foreign companies. A healthy lifestyle and eating style will be discussed in specialized lectures and seminars.
On March 10, Thursday, at 4:30 p.m., the official award ceremony in the innovation competition will take place. The competition provides an opportunity to present and advertise new technologies and products and distinguishes the most avant-garde developments in the field of agriculture, which are presented for the first time at AGRA.
On March 12, Saturday, at 4:00 p.m., the award ceremony for the winners of the User's Choice contest will begin.
You can see the full business program for March 9-13, 2022 at the mega-exhibition at the link https://www.fair.bg/…/form/file/621e1b29af2eb178103804.pdf